My Blog
Posts for: April, 2021
By David Van Appledorn, DDS, PC
April 15, 2021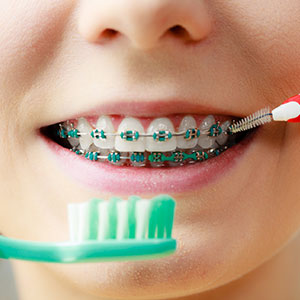 Wearing braces can pose challenges for your daily life and habits. One in particular is trying to keep your teeth and gums clean.
Braces or not, your oral hygiene needs to be thorough. Every day, your teeth accumulate a thin film of bacteria and food particles called dental plaque that can cause tooth decay or gum disease. It's essential to remove as much as possible each day by brushing and flossing.
That's a more difficult task with braces. The brackets and wires interfere with accessing many of your teeth's surfaces with a toothbrush or floss. As a result, braces wearers on average have a higher incidence of dental disease than non-wearers.
But while it's difficult to keep your mouth clean wearing braces, it's not impossible. Here are some tips and tools for making oral hygiene easier during orthodontic treatment.
A low-sugar diet. Besides items like chips that could damage your braces, you should also limit your consumption of foods and snacks with added sugar.  This carbohydrate is a primary food source for disease-causing bacteria. Limiting sugar in your diet can help reduce plaque buildup.
The right toothbrush. Brushing with braces is easier if you use a soft multi-tufted brush with microfine bristles. The smaller bristles maneuver better around the braces than larger bristled brushes. You'll still need to make multiple passes above and below the wires to be sure you're brushing all tooth surfaces.
Flossing tools. Traditional flossing using just your fingers can be next to impossible to perform with braces. But a tool like a floss holder or threader can make it easier to get between teeth. You might also try a water flosser that removes plaque from between teeth with a pressurized spray of water.
Dental treatments. Your dentist can give your teeth extra protection while you're wearing braces with topically applied fluoride to strengthen enamel. Using mouthrinses with an antibacterial ingredient like chlorhexidine may also reduce harmful bacteria.
Be sure you also keep up regular visits with your family dentist while wearing braces, and especially if you begin to notice puffy and reddened gums or unusual spots on your teeth. The sooner any case of dental disease is detected, the less impact it will have on your dental health.
If you would like more information on dental care while undergoing orthodontic treatment, please contact us or schedule an appointment for a consultation. You can also learn more about this topic by reading the Dear Doctor magazine article "Caring for Teeth During Orthodontic Treatment."
By David Van Appledorn, DDS, PC
April 05, 2021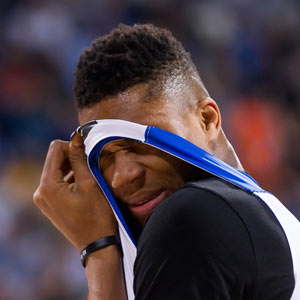 The NBA's reigning MVP Giannis Antetokounmpo may seem unstoppable, but he proved no match for a troubled tooth. Antetokounmpo, the self-proclaimed "Greek Freak," missed one of the final three 2020 regular season games for a dental issue that resulted in last-minute oral surgery. According to a Milwaukee Bucks spokesperson, the star underwent "a root-canal like procedure."
Root canal therapy, often simply called "a root canal," may be needed when there is an infection inside the tooth. When dental pulp becomes inflamed or infected, excruciating pain can result. Pulp is the soft tissue that fills the inside of the tooth. It is made up of nerves, blood vessels and connective tissue. During root canal treatment, the pulp is removed, the space inside the tooth is disinfected, it is filled with a special material, and then the hole is sealed up.
A root canal is nothing to fear. It relieves pain by getting rid of infection and is so effective that over 15 million of them are performed in the U.S. each year. This routine procedure generally requires only local anesthetic, and your mouth should be back to normal within a day or two after treatment. Antetokounmpo can attest to that, as he returned to play the next day.
However, delaying root canal treatment when you need it can have serious consequences. If left untreated, an infection inside the tooth continues to spread, and it may move into the gums and jaw and cause other problems in the body. So, how do you know if you may need a root canal? Here are some signs:
Lingering sensitivity to hot or cold temperatures. One sign of nerve damage inside your tooth is pain that is still there 30 seconds after eating or drinking something hot or cold.
Intense pain when biting down. You may feel pain deep within your tooth, or in your jaw, face or other teeth. The pain may be hard to pinpoint—and even if it improves at times, it usually comes back.
A chipped, cracked or discolored tooth. A chip or crack can allow bacteria to enter the tooth, and the tooth may darken if the tissue inside is damaged.
A pimple on the gum. A bump or pimple on the gum that doesn't go away or keeps coming back may signify that a nearby tooth is infected.
Tender, swollen gums. Swollen gums may indicate an infection inside the tooth or the need for periodontal treatment.
And sometimes there is no pain, but an infection may be discovered during a dental exam.
Tooth pain should never be ignored, so don't put off a dental visit when you have a toothache. In fact, if a bad toothache goes away, it could mean that the nerves inside the tooth have died, but the infection may still be raging. Also, be sure to keep up with your regular dental checkups. We may spot a small problem that can be addressed before it becomes a bigger problem that would require more extensive treatment.
Remember, for dental issues both large and small, we're on your team! If you would like more information about tooth pain, please contact us or schedule a consultation. To learn more, read the Dear Doctor magazine articles "Tooth Pain? Don't Wait!" and "Root Canal Treatment: What You Need to Know."